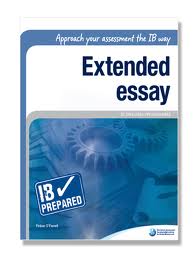 The extended essay is in-depth study of a topic chosen from one of the subjects offered in the ib program. Its purpose is to acquaint you with the kind of independent research and writing skills expected by universities. Emphasis is
Placed on the process of engaging in personal research, on the communication
of ideas and information in a logical and coherent manner, and on the overall presentation of the extended essay in compliance with these guidelines. Your extended essay topic must fall under one of the subjects listed below. You
do not need to be studying this subject in your diploma.
Art/Design
Biology
Business & Management
Chemistry
Classical Languages
Computer Science Dossier
Design Technology
Economics
Environmental Systems & Society
Geography
History
ITGS (information technology in a global society)
Mathematics
Music
Peace & Conflict Studies
Philosophy
Physics
Politics
Psychology
Social Anthropology
Theatre Arts
Visual Arts
World Religion
The Length of the Extended Essay:The upper limit is 4000 words and essays should be at least 3500 words. Theupper limit includes the introduction, the body, the conclusion and anyquotations, but does notinclude:
· the abstract
· acknowledgements
· the contents pages
· maps, charts, diagrams, annotated illustrations and tables
· the references/bibliography
· appendices
Essays in excess of 4000 words are subject to penalties and examiners are not
required to read material in excess of the word limit.